Rev. Eronides DaSilva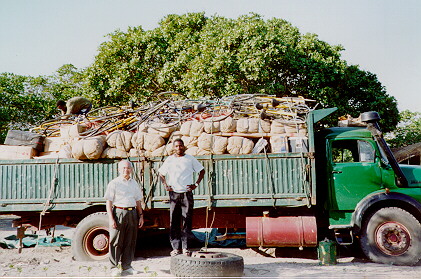 Rev. Eronides DaSilva e Felix Rogici Enfermeiro


A Trip With a Difference


How delighted I was in arriving safely back home in Florida from the seven months seminar in the interior wild land of Mozambique! Again, I'm still amazed for the wonderful and powerful seminars that the Almighty God gave us in Mozambique. During these months the Sepoangol World Ministries (an outreach of the Bethany Pentecostal Church aiming to train Portuguese, Spanish and French speaking people wit three different levels of theological intensives courses: SEP-I, SEP-II and SEP-III), reached the ten provinces of the country, teaching 45 subjects in 1085 hours of class for 225 pastors, evangelists and lay-workers from 19 denominational backgrounds.

The 62 poison serpents that we killed in the wild camp ground, the malaria and meningitis that some caught, sure could not stop the male and female, old and young students to be graduated! As I said before, Sepoangol World Ministries was founded in 1982 by missionary Eronides DaSilva, when traveling to Mozambique to deliver some medical supply to the English physician, Missionary Colin Bowker, working among the wounded from the independence civil war.

The Sepoangol World Ministries reaches out to the deep needs of native Portuguese speaking people of Africa, Polynesia and Ultramarine Administration, in three folds: spirit, soul and body, by teaching biblical discipline, social and cultural training, as well as humanitarian emergency relief for the children and elderly population. Each shipment of medicine provided is personally accompanied and delivered by missionary Eronides DaSilva and under medical staff supervision.

To date, a great sum of medicine and aid has been delivered to the children, single mothers and elderly of 23 African cities. These vitamins, medicine and educational material are donated or provided at very low cost by American, Canadian and Brazilian manufacturers. Some 2,984 pastors, evangelists and lay-workers from distinct Pentecostal experiences have been trained with fundamental basic theological courses. During these marches among the locals Assemblies of God of Mozambique, Angola, São Tomé and Príncipe, Venezuela, Cuba, Haiti, South Africa and Australia, more than 28.400 souls were washed by the precious blood of Christ, and 137,373 children were reached with His Word!

I would also like to refer that Sepoangol World Ministries, is a Bethany Pentecostal Church (a Brazilian Assembly of God Church, located in Florida) outreach ministry with an independent, non-paid board of directors and a history of strict financial integrity. This nonprofit organization is funded by the generosity of friends all over the World. Executive Director Eronides DaSilva is a veteran missionary with 34 years of foreign cross cultural missionary service. Again, thank you so much for your prayer, appreciation and support toward this ministry! Blessings be upon your heart as I'll be glad to receive a note from you! Kanimanbo, as we say thanks in the most spoken Mozambican dialect!